Producer hired team to investigate 91 film industry figures in attempt to stop harassment claims going public
The Observer has gained access to a secret hitlist of almost 100 prominent individuals targeted by Harvey Weinstein in an extraordinary attempt to discover what they knew about sexual misconduct claims against him and whether they were intending to go public.
The previously undisclosed list contains a total of 91 actors, publicists, producers, financiers and others working in the film industry, all of whom Weinstein allegedly identified as part of a strategy to prevent accusers from going public with sexual misconduct claims against him.
The names, apparently drawn up by Weinstein himself, were distributed to a team hired by the film producer to suppress claims that he had sexually harassed or assaulted numerous women.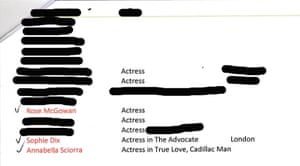 Read more: https://www.theguardian.com/film/2017/nov/18/harvey-weinstein-secret-hitlist-sex-scandal